Sister Jacqueline Young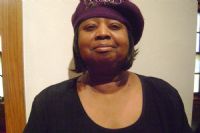 Sister Young has been married for over 46 years to Brother Floyd Young and is the mother of four children.
Sister Young, having a vast knowledge of the church, has worked in many areas of the Lord's vineyard. This knowledge includes working as treasurer to superintendent of Sunday school. Sister Young has been the financial secretary and President of Missionary department.
Sister Young has been saved for our 43 years, living a life of holiness. Her constant prayer is asking the Lord to keep her grounded. Sister Young is an advocate; her mission is to do Gods will. She is always visiting the sick, helping those that are need and most importantly showing Gods Love.