Minister Cedric A. Fuller, Ph.D.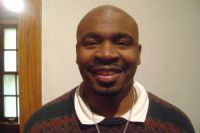 Minister Cedric Antoine Fuller is currently the Chief Minister of Music at the Temple of Promise Apostolic Church of Our Lord Jesus Christ, of the Apostolic Faith, Inc. He attributes his great accomplishments to the continual prayers and support of his loving Family.
Coming from a family of four with humble beginnings and limited resources. The greatest achievement of being introduced to the Lord at an early age comes from his grandmother the late Sister Shirley Mae Williams. Minister Fuller went on to become a notable Educator, by the grace of God. Where he graduated from High School in 1993 and joined the U.S. Navy for 5.5. years, as a Religious Program Specialist and a Naval Linguistical Support Technician then, he later obtained his Bachelors, Master's Degree in the field of Secondary Education with the E.S.O.L (English as a Second Language) in Russian Studies, and his Doctorates in Education and Divinity. He has offered a vast amount of knowledge and wisdom; along with precious time, to share his spiritual and natural accomplishments that the Lord has blessed him with, often without reservation or hesitation.
Minister Fuller is frequently referred by many as a man who exhibits persistence, perseverance, and a great passion for the hearts of people. He is determined to play uncompromised gospel music and reach lost and dying souls through the ministry of music. In his years as a Minister of Music, he has strongly encouraged so many people with these words, "Therefore, my beloved brethren, be ye stedfast, unmovable, always abounding in the work of the Lord, forasmuch as ye know that your labor is not in vain in the Lord". (1 Corinthians 15:58)